I am a watercolorist living in a most beautiful and inspiring region of America--New Hampshire.  I paint what I like and hope you will share my enthusiasm.
Architecture has always been of interest to me--whether bridges, barns, houses, porches, doors, or lighthouses.  At times, the human form will find its way into a painting-either as a primary or secondary element.
Over the years, I have cultivated an interest in painting flowers, sometimes in a formal cut arrangement, but other times still growing in my garden.  Birds, cows, sheep as well, nudge their way into my work.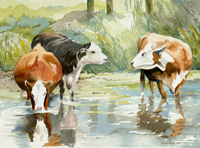 As I said, anything that I find interesting.
My painting style really depends on what the subject is and the mood I am trying to create.  A foggy day in the woods will be loose and fluid, whereas three cows socializing and cooling off at water's edge will demand a more detailed representation.  Still more detailed are house portraits where accuracy in perspective and architectural details are very important.